September will come in a minute *or maybe it already September when you read it* and I'm not excited at all..It should be a happy month for all Muslims people in the world, because Idul Fitri is coming in this September..But, I think it will be the worst Idul Fitri ever!! :((..the reason is because I have to work from September 9-11th..what the hell?!? In calendar Idul Fitri will be on September 10th, but it's still possible that Idul Fitri come earlier in September 9th..and that's mean I can't celebrate this Idul Fitri with my family?? So sad :((..
When I choose to be a journalist, I already know the consequences..but I'm still thinking that at least I got a day off in one of Idul Fitri *It usually celebrate for 2 days*..and the worst part is the newspaper company where I work in, not publish the paper from September 9-12th..So, I work for 3 days in Idul Fitri just to fill the online web..
I'm sorry to complain a lot about my job..but this fact is really killing me..Now, I'm in searching for another job that have a clear office hour and holiday time. And the most important thing is I need the job that can give me "Me Time"..Being a journalist has take almost all of my time..I don't have time to treat myself well..However, it's still a fun and exciting job..Especially for you who love a challenge and like to explore a new thing..but personally I think I'm enough with this kind of job..I give four thumbs up for all the journalists out there!! :) :)
Okay, enough with the complain and blabbing thing..
I want to share my outfit that I wore a couple week ago or maybe a month ago..I forgot when I wore it exactly :p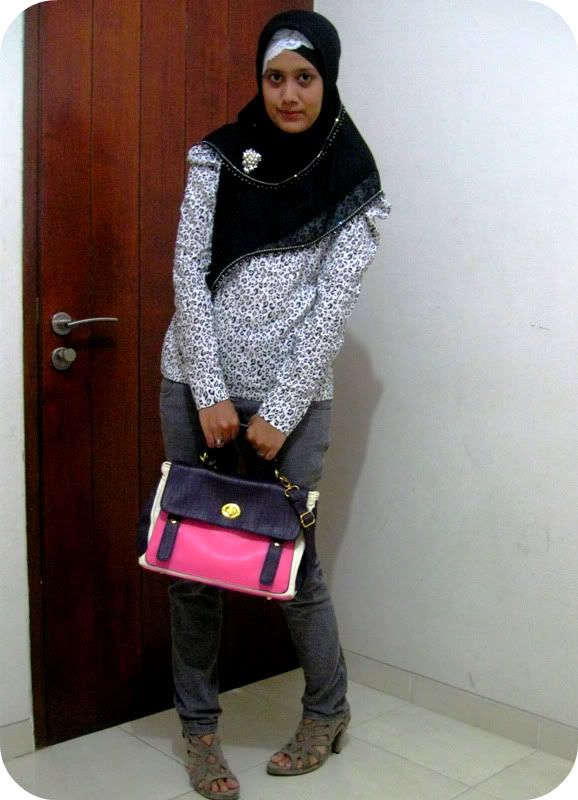 [Leopard top - N.Y.L.A | unbranded jeans | mom's veil | black inner - ITC kuningan | white lace inner - ardelya scarf | shoes - online shop |
Nabila
's bag | brooch - RIP auntie]
You know what? when I wore this cross inner hijab, my dad was laughed out loud when he first saw me..am I look that weird?? haha
I also want to share some of my Hijab Looks ;)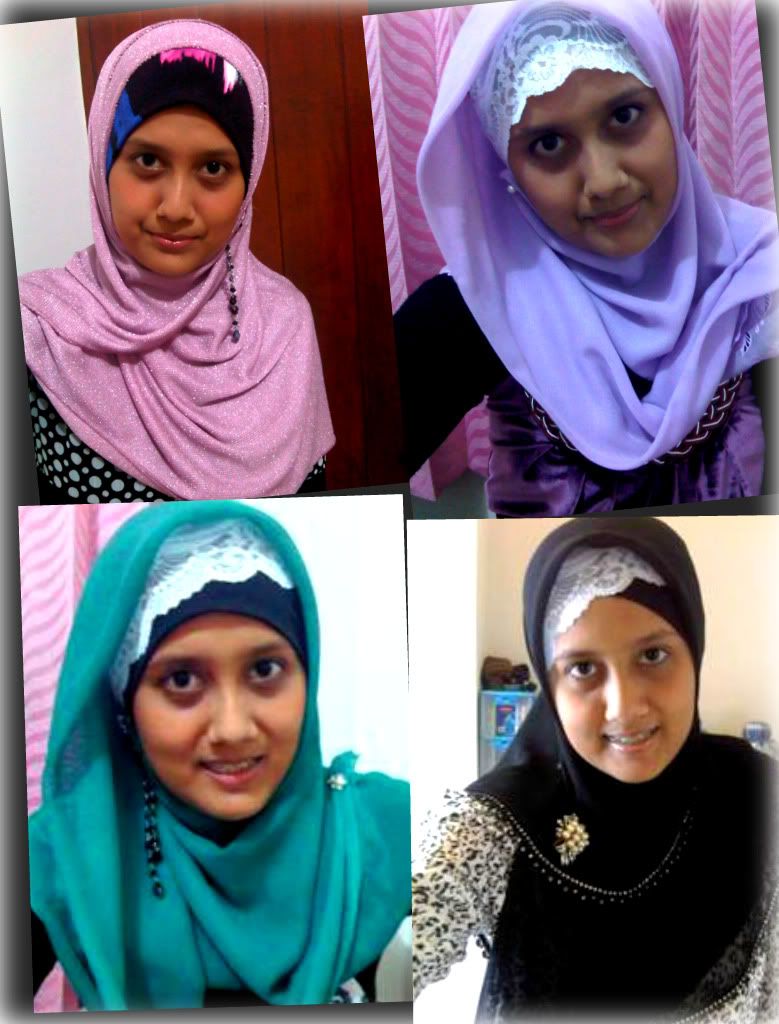 Sometimes I just took the pic of Hijab looks, not all the outfit..But for the purple one, I also take the outfit post..just wait until I post it in the next post :) :)
P.S. all you can see at the picture above, the
Dian Pelangi
's hijab style inspires me a lot *the green and purple one*..I use to wear that kind of style at any occasions ;)
Hope you all have a Happy September!!
Wish me luck in finding another job ;)..hehe